One of the Most Beautiful/ Dangerous Drives I've ever done… to Date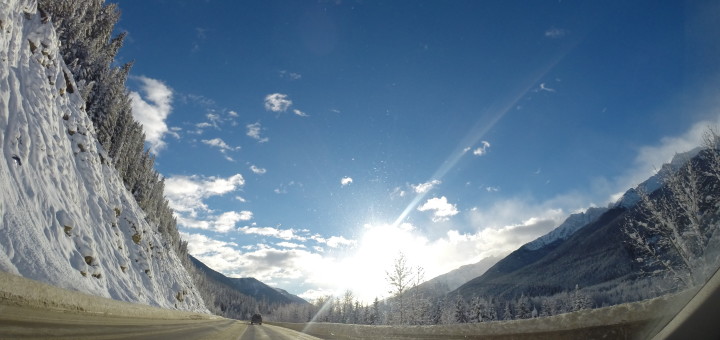 This slideshow requires JavaScript.
Today started out like any other day. I woke up, showered and put my pants on one leg at a time, the only difference about today was that I was making the journey from Lake Louise, AB to Kamloops, BC in a rental car, with all season tires over multiple mountain passes that are plagued by avalanches and rock slides, after a 50cm snow storm that closed those same roads the previous day.
This trip, in theory, is quite simple. Take the TCH (Trans Canada Highway), the longest national highway in the world, stretching from coast to coast. One road that is nothing but straight forward. The trip began in Lake Louise, from there you travel over the Rocky Mountains through the Kicking Horse Canyon, a winding 2 lane road down into the valley of Golden, BC. From there you travel through the Purcell Mountain Range, the Selkirk range and down into the desert region of the Okanagan. This trip is only a mere 441km, but it crosses some of the most deadly and unforgiving mountain passes on the planet. Rogers Pass is a narrow valley surrounded by mountains. Rogers Pass is home to the largest mobile avalanche control program in the world. Parks Canada and the Department of Defence work together to keep the pass safe for traffic on the Trans-Canada Highway and the Canadian Pacific Railway mainline.
However, this is one of the most beautiful drives I have done in a long time. This 441km stretch of the TCH passes through four National Parks (Banff National Park, Yoho National Park, Mount Revelstoke National Park & Glacier National Park) and three Provincial Parks (Victor Lake Provincial Park, Yard Creek Provincial Park, & Pritchard Provincial Park.) Along the journey it's not uncommon to see a wide variety of wildlife (elk, deer, wolves etc) and some of the most picturesque landscapes around. There are many places to stop along the way for photos or small side trips to picturesque lakes, or hot springs. Along the way you could be tempter to go snowmobiling in the backcountry, try your hand at backcountry skiing/ snowboarding, ice fishing, mountaineering or pretty much any activity that will get your adrenaline pumping! Unfortunately there aren't many places to stop and refuel (gas or food), especially on the mountain passes. It's not uncommon to go 150kms without a chance to fuel up on gas or food. In the winter months there are even fewer options because the smaller, family run restaurants that run in that area are closed during the winters, so it is best to bring some extra food, water and refuel early if you need to. It's not the most hospitable place to get stranded. There are also many parts that don't get any cell signal.
However, if you have the opportunity to make this drive, I definitely suggest it! Try going from Vancouver to Banff!